13 tips to getting a bargain at a property auction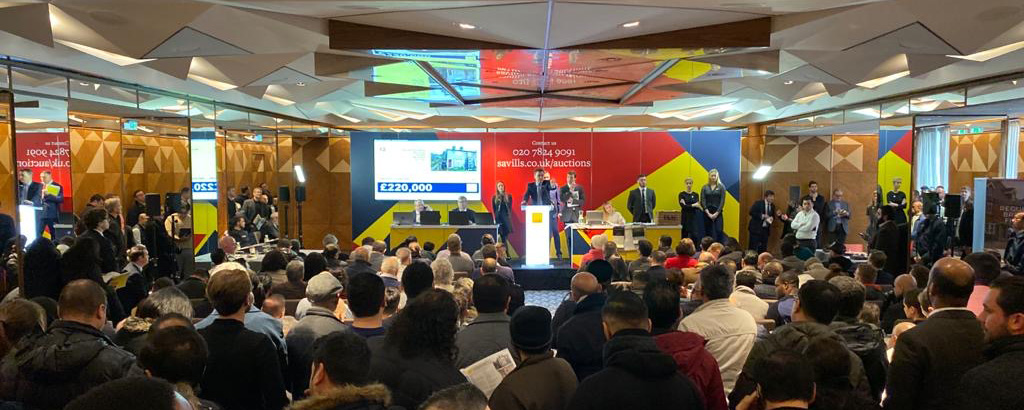 Auctions are increasingly popular for finding bargain properties and benefitting from quick sales but it takes effort to be successful. Here, we've given you 13 tips to ensure you walk out of the auction with a bargain property.
1. Do your research
Research property prices beforehand so you know the current market value of the property you're interested in. Check how much similar properties have recently sold for in the area. The Internet offers a lot of information on this so you can do your research quickly.
For example, if you're looking for a property in Bexley, simply enter the area into the search box on Nethouseprices. You are provided with a list of properties that have been sold in Bexley, including details about each property, the sold price history, price trends for the local area and local statistics for schools, crime and tax.
Knowing this information helps you spot a bargain quickly in an auction catalogue. It also flags up potential issues — if there is a quick turnover of properties, you need to find out why.
2. Consider auctions that are outside of the area
When attending a local auction in your preferred area, there is more competition for each property. At a national auction, however, you benefit from fewer people bidding on the same properties. National auctions cover a much wider region, narrowing down potential interest in each area. Also, bidders aren't necessarily willing to travel further afield for a local property. Those looking to buy in Bexleyheath, for example, wouldn't necessarily wish to travel to a national auction in Manchester.
3. Look for unusual properties
Auction houses offer a great mix of property types that you wouldn't necessarily find via estate agents. These include repossessions and properties that need modernisation or complete renovation. Once you're used to checking auction catalogues, you'll be able to spot properties that stand out from the rest.
You may also find that a predominantly commercial auctioneer is advertising a residential property or vice versa. In this instance, there is likely to be less interest in the property that is different as those following the auctioneer tend to look for a specific property type.
4. Find out why the property is being sold
It's true that some properties are sold at auctions because the sellers or banks encounter issues selling them in the traditional manner. However, there are many reasons why sellers opt for quick sales at auctions, helping you to find a bargain. They may be relocating abroad or going through a divorce, for example. Repossessions offered at auctions can save you 30% on the normal market value.
Some properties need work and you need to find out what needs doing and the costs involved. As an investment, a fixer-upper within your budget that you can sell for profit is ideal.
5. Visit the property in person
Online tools, such as Google Maps, can help you check out properties initially or the auctioneer may provide virtual tours. Really, though, it's recommended to visit the property in person to see its condition close up. It's hard to tell the condition from the property details and what may seem like a bargain may be very different in the flesh.
It's best to go with a builder or surveyor who will notice issues you won't and be able to advise you on the costs for remedial works. Note that when using a mortgage for your auction finance, getting a survey carried out before the auction is essential. Even if you have a mortgage in principle, the lender can withdraw the offer if a property is deemed unmortgageable.
While you're there, speak to the neighbours to see if there are any known issues that you wouldn't be able to deduce from an auction catalogue.
6. Ask your solicitor to check the small print
The auction house provides legal packs on each property, which are drawn up by the sellers' solicitors. When you've read through the legal pack yourself, ask your solicitor to check through it. He/she will scrutinise the small print and notice issues you may have missed. This ensures you haven't missed anything that turns a potential bargain into a long-term money pit.
7. Make sure your finances are in place
It's essential to have your auction finance in place before you bid on a property. When winning a bid, you need to pay a 10% deposit immediately and usually have 28 days to complete. If you fail to complete within the agreed timescale, you lose your deposit and buyer's fee and you risk being sued by the seller. This rapidly turns a bargain buy into a financial nightmare.
8. Budget for the additional costs
As well as your 10% deposit on the day, you need to budget for other costs. If you don't allow for all of these, a seemingly bargain buy can actually be an expensive purchase. Before the auction, you will have to pay a survey fee, your solicitor's fee and the lender's fees, including a valuation fee.
On the day, you may have to pay an administration fee and possibly a buyer's premium, depending on the auction house. Check with the auction house beforehand so you can adjust your budget accordingly. You may also be liable for extra fees specific to the property, such as reimbursing the seller for the search fees. These extra costs are noted in the special conditions of sale in the legal pack.
If you opt for a short-term bridging loan as part of your auction finance, remember to factor in the interest rate and fees.
9. Offer before an auction
If a property has caught your eye, there's nothing to stop you from making an offer before the auction. If your offer is accepted, be prepared to exchange straight away. The benefit of offering in advance is that you won't have to compete against other bidders on auction day, which will just drive up the price.
10. Register your interest on a withdrawn property
Occasionally, properties are withdrawn by sellers before auction day. This can be for numerous reasons, such as tenants still residing in a property despite it being offered as vacant possession or the legal pack not being ready. Speak to the auctioneer to check why it was withdrawn — it's possible that the issue may be resolved in the near future.
Once you've registered your interest, the auctioneer can then get in touch when the issue is dealt with and offer it to you. This avoids competitive bids in an auction setting and you're more likely to get a bargain.
11. Sit in a good place during the auction
Make sure you arrive early enough to sit in a good position where the auctioneer can see you when bidding. If you bid at the last minute but are obscured from the auctioneer's view, your bid will be missed and you'll lose your chance at your bargain purchase. You also want to be seated where you have a good view of the room and other bidders, preferably near the back.
12. Avoid a bidding war
Remember that the guide price is just that — a guide. It is not the price the property will sell for and you need to allow an extra 10% for the reserve price. Once the bidding starts, it's easy to get carried away with the excitement but remember that you're there to get a bargain. The higher the bid, the lower your chance of leaving with a bargain property.
13. Bid on an unsold lot
If a property isn't sold on the day, it doesn't mean all is lost. Speak with a representative from the auction house straight away to see if you can negotiate on the property. If the seller agrees to a deal, you can be happy that you've secured your bargain property after all.